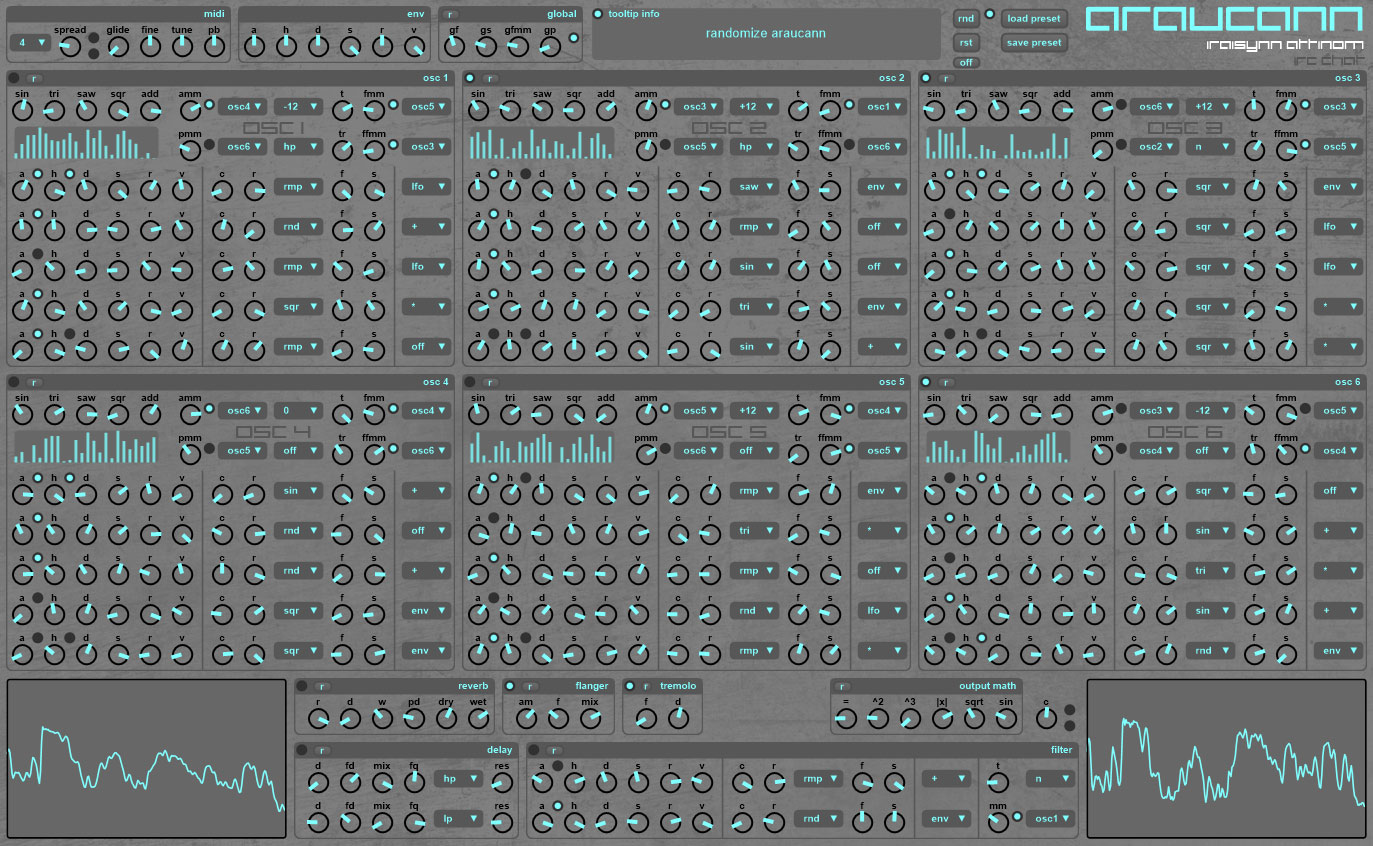 "Been playing with a synth called araucann. It went like this: press 'randomize' > 'holy shit!' > save preset > repeat. Love it :)" — Nik Roos (Noisia)
"Utterly insane synth! Absolutely stunning!" — BILLAIN
"It has infinite possibilities, and it's so fun to work with. Absurd, in all the right ways!" — Emperor
"This synth is a crazy unhinged beast and I love it!" — Cliff Hanga (CLIFFY)
"The araucann Randomizable synthesizer is very unique, in that you can get very interesting results very quickly with it. The internal modulation system is vast and will give you endless variations of infinite complexity!" — Richard Devine
araucann is a randomizable synthesizer.
KVRaudio link
It offers frequency modulation, amplitude (ring) modulation, phase modulation, additive and subtractive synthesis techniques, all at the same time. It has 6 filtered oscillators modulated by 32 envLFOs (envelopes and LFOs that interact with each other).
araucann does not rely on presets. It is completely randomizable and produces very complex and unique sounds at the push of a button.
Features:
6 oscillators.
33 envlopes.
32 LFOs.
compression.
delay unit.
reverb unit.
modulated post filter unit.
output math unit.
unison and monophonic / polyphonic modes.
randomization algorithms for global or per unit parameter randomization.
Fully automatable controls.
Preset saving and loading.
Loudness protection / auto-gain function (no signal will be too loud or too quiet).
Full SSE and SSE2 support.
(The sounds in the samples were created using araucann only. no other synths or effects were used.)
Click here to download the VST DEMO (the demo version mutes for one second every 33 seconds)
araucann is 32bit windows VST plug-in / standalone.
If you want to use it on a mac computer, take a look at this
If you want to use it on a x64 DAW that does not already support bridging, take a look at this.
By purchasing araucann you get all future 1.xx versions for free (and also a discount for version 2)
araucann : €24
current version : 1.12
show changelog